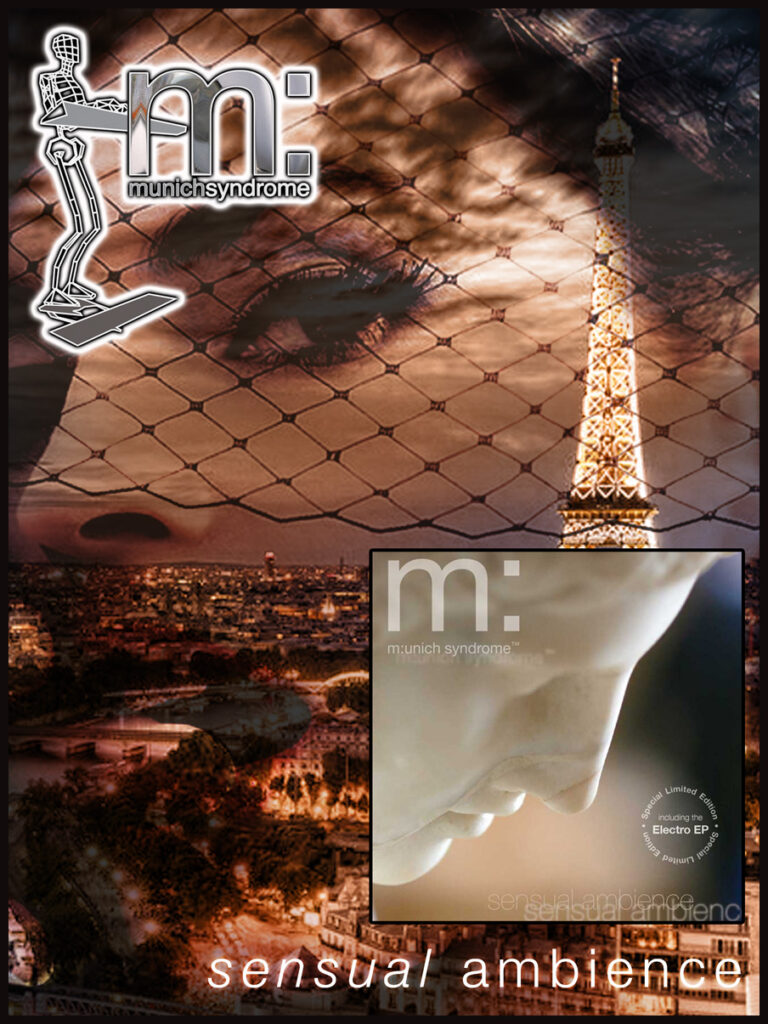 Sensual Ambience (with the Electro EP) Available NOW
from our partners at CD BABY
Sensuous. Dreamy. Warm. Fluid. Romantic. Expressive. Seductive. Erotic. Pleasurable. Ethereal. Evocative. Melodic. Sensual Ambience, the debut album from Munich Syndrome plays like the soundtrack to warm and inviting dreams, which it turns out began life as several soundtracks.
Opening with the (appropriately) dreamy "Fragment (of a dream) (quiet)", sets the tone for the following nine tracks. Ethereal keyboard washes, a faint voice (possibly from the Orient?) understated drums and a melody that gently pulls you along. The song swirls through the headphones creating an aural oasis of bliss.
"Quiet Atmosphere" is a meditative, calm, tranquil, subdued piano-centered song. Conjuring a peaceful tropical setting that radiates an otherworldly vibe. Recalling what was once referred to as "new age", the song transcends that moniker with more substance and refinement. "Quiet Atmosphere" was also licensed by L'Oreal for a Pureology ad campaign.
"Cathedral Interlude" begins with an intricate dance of piano and strings and is then joined by understated downtempo rhythms followed by drum & bass underpinning.
"Lost in You" begins with a slinky and seductive piano over a kinetic bass and upfront trip-hop beats. Analog synth lines swirl and slink in the background as the song builds. A brief anti-climax is followed by a restart, which is quickly followed by an analog synth, and the refrain "so lost in you, I don't know what to do" passed through vocoders and processing to build to a final crescendo.
"To Whom It May Concern" reflects a trip-hop downtempo vibe, with an understated bassline underneath jazz-inflected piano. Joined shortly by a very melodic and jazzy sax the song echoes dark bars with tinted windows, smoked glass mirrors, candlelight and sublime ambience.
A scorching propulsive track driven by a scorching saxophone, "A Night in Paris" echoes the endless nightlife in the City of Light. Driving rhythms push the song ever forward.
"Endless Possibilities" is built upon a downtempo trip-hop beat with layered intricate guitar, lush keyboard washes and just a hint of ethereal choirs floating with the mix. This track wouldn't be out of place on an Enigma or Blank & Jones chilltronica album.
The centerpiece of the album is the title track "Sensual Ambience (Paris Movie)", which began as the soundtrack for a short film shot in Paris. The epitome of sensual with warm, rich, lavish and luxuriant keyboard washes, understated and beguiling piano and warm, seductive and tantalizing sax that blends into 18+ minutes of total bliss.
Closing "Sensual Ambience" (proper) is "Fragment (of a dream) (electric)", which restates the opening track, but this time with the inclusion of sinewy and seductive electric guitar-work snaking throughout the track.
Included in this release is "The Electro EP", four songs that were initially to be part of the debut release. With the prospect of doing some soundtrack work changed the focus of the debut album, the essence of Munich Syndrome was founding in the post-punk wave of electronic pioneers such as Soft Cell, New Order, Gary Numan, OMD, Voice Farm, Yello, The Normal, Depeche Mode and many, many others. The Electro EP was initially available for streaming and downloads via SoundClick and MySpace.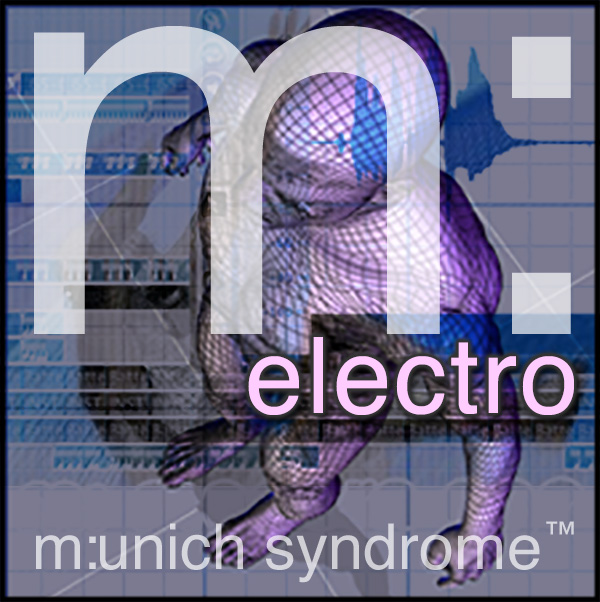 The first song on the Electro EP was a bit of a hybrid creating a bridge from the downtempo Sensual Ambience album, combined with more dynamism to match the energy and harder electronics of the EP. "Regret" features dynamic piano underpinned with a more propulsive electronic rhythms and percussion.
Moving firmly over the stylistic divide of the album and EP comes "Murderous (NIMH Mix)". A harsh industrial-tinged techno infused banger that contains elements that wouldn't be out of place in early 90's video games. Dark, dangerous with a desperate edge, this is the first declaration of Munich Syndrome's electronic side.
"Come Out and Play (Just for a Day)" is the most unbridled, high-spirited, jubilant, boisterous and rapturously free-flowing track of the EP. Anchored with a rock-solid 4/4 beat and sharp-tight sequencing, this the first Munich Syndrome track to push the vocoder front and center into the mix, recalling some of the electro artists from Europe such as Daft Punk or Kraftwerk.
The final track of the EP, "Modern Age (2006 Mix)" was the cornerstone of what the debut album from Munich Syndrome was to be built upon (this was picked up fully realized in the subsequent release "Electro Pop").
As the Electro EP closes, the door is now fully open for Electro Pop!
Sensual Ambience is available at these partners:
Sensual Ambience available as CD or download from our partners at CD Baby!