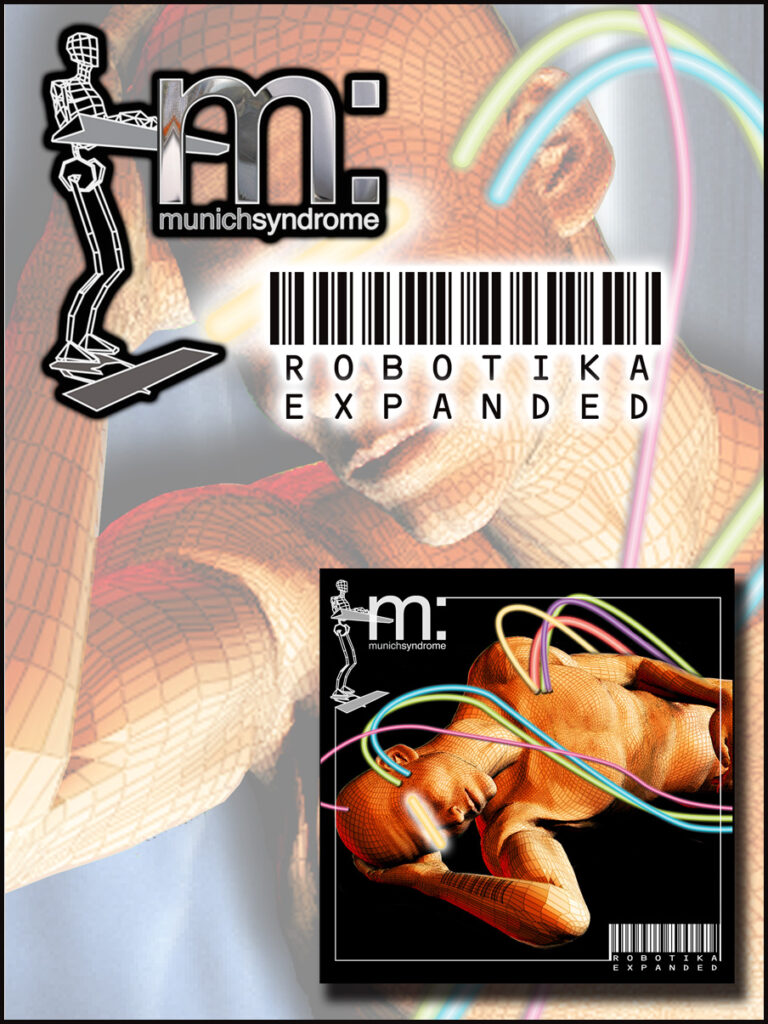 Robotika (Expanded) available as CD or download from our partners at CD Baby!
What does the future hold? A.I.? Government and corporate overreach? Perhaps not as sci-fi today as it might have been. "Robotika" is loosely structured concept album about life in the not-too-distant future, in a dystopian world of control.
Written as a total narrative, Robotika builds upon the strengths gained over the previous three albums. Darker with industrial overtones, the electronics are turned up to 11 with dense keyboards, heavy-machinery drums, treated vocals and air-tight sequencing.
Opening the album – "Diagnosis: Begin". Diagnosed with "Robotika", we begin.
Beginning with a metallic drone with sledgehammer drums coming in shortly "Robotika (Technology Seduces)" begins the story and album. ("not a man, not a machine, but something else, in between")
"The Future" we envisioned when we were young, is seldom the present that eventually materializes. And often we lament or pine for a past that either never existed or has been airbrushed to a point of non-comprehension. "remember when you were young?"
What happens when you join the program? The assembly line of life birth-school-work-death trudges on. For some "(I Do) The Robot".
Once locked into the assembly line one is now under the influence and control of "Industry (Hostile Takeover Mix)*".
Once in (and part of) the machine, even with compliance can come enemies, "Assassins (Take The Hit Mix)*"
The constant grind, crush and brutality of dialing life leaves some just wanting to be "Medicated"… ambient, downtempo, dreamy, serene, and chill…
From a Medicated state, "Android Dreams (remix)" can occur… a dream-like dub washes over and goes into another dream-state…
Moving forward into consciousness the realization of "Just a Lonely Robot"… a bit funky, with the right mix of electronics, feeling and sax….
Emerging from the lonely robot, the need comes to get lost in the "Nightlife". Like a night out clubbing in Berlin, cold analog synths, tightly paced drum machines and a funky-yet-restrained bass-line move the song forward.
One of the most upbeat, energetic and exciting tracks on the album, "Tonight" explodes with a kinetic new-wave post-punk energy and drive.
A call to arms, or more realistically, the dance floor is heralded by the burst of horns on "Dance Again". Electro synth pop with a dynamic rhythmic insistence who's propulsive drive pulls you along.
A tad more somber and introspective "Perfect Day" has wistful synth leads over improvisatory basslines, anchored by trippy back-beat and sculptural synth washes.
The journey of Robotika continues as "Memories Drift (It's Christmas)" has a melancholy-tinged look back at holidays past. Anchored with a syncopated bass as ambient atmospheres swirl about, 'like snowflakes in the air'… (yet another exclusive track to this edition of Robotika)
Coming out of the dream-like quality of "Memories Drift", comes the ambient, lush, and dreamy "Robotika (Ambient)". A stripped down and minimal version, underscoring the beauty of the keyboard washes and chords.
The conclusion of the journey is "Prognosis: End", with a confirmed diagnosis of Robotika, with symptoms of Munich Syndrome.
Arriving near the end of our journey, "Robotika (beta)" is the concise short-form of the title track, "Robotika (Technology Seduces)". All the elements are here in the beta version, which was then expanded, refined and remixed into the full title track.
Robotika (Expanded) available as CD or download from our partners at CD Baby!