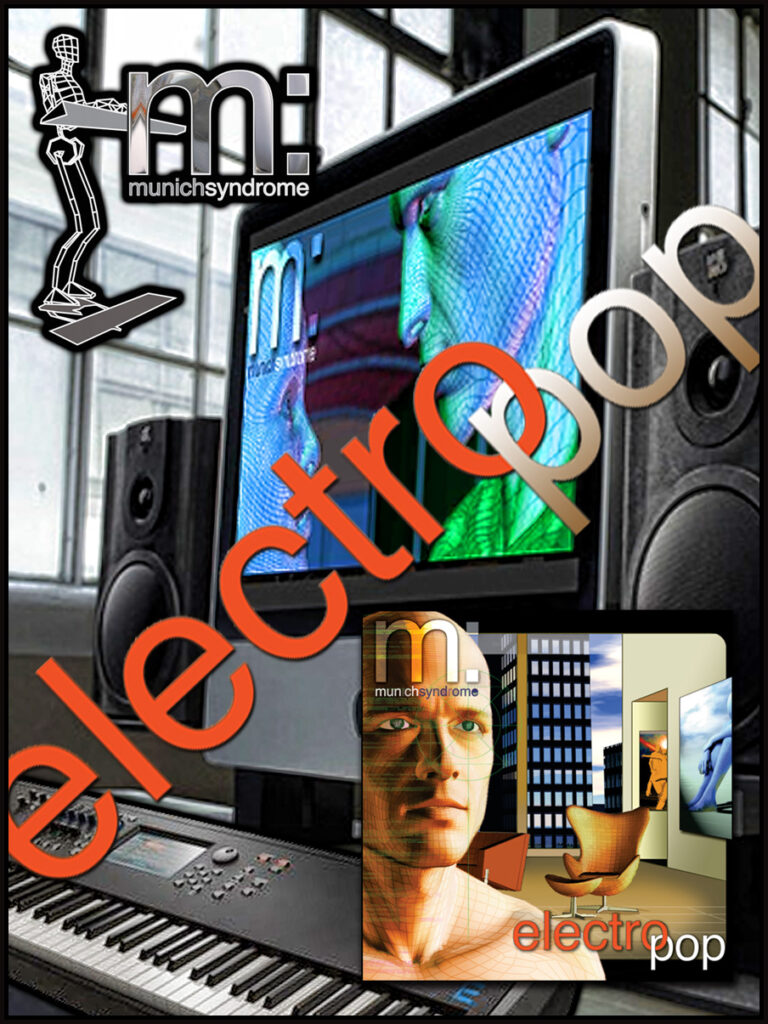 Electro Pop Available NOW
from our partners at CD BABY
Electro Pop! Synth Pop! Techno Pop! The main thing in common is Pop! After the very successful launch of Syndrome Sounds with Munich Syndrome's debut album, Sensual Ambience, it was time for Munich Syndrome to get back to its roots. Electronic pop. Synths, drum machines, vocoders, filters, sequencing, processing and any and everything that can be done to a sound. With origins and roots in the creative explosion that happened after the post-punk D.I.Y. movement that flourished with the proliferation of synthesizers and drum machines.
Following in the footsteps of pioneering artists like Orchestral Manoeuvres in the Dark, Soft Cell, Gary Numan, New Order, The Human League, Voice Farm, Telex, The Normal, Depeche Mode, etc., Munich Syndrome charted a course using the building blocks that synthesis and technology provided. Equally a fan of the artists creating brave new works, the producers and engineers behind the mixing boards held equal fascination: Trevor Horn, Martin Rushent, Mike Thorne, Daniel Miller, Giorgio Moroder, Stephen Hague, Stephen Lipson and many more.
Opening Electro Pop is "Manifesto", a dense tightly sequenced electronic track with Germanic overtones where Munich Syndrome has found its "voice" with the vocoder.
The next track became one of Munich Syndrome's most popular and best-selling track, "Dance (Ah Eee Ya Ya Ya Ya)", a (very) tight and intense foray into EDM, electropop, synthpop, and, well, dance! Pushing the vocoder further into the mix, this was also Munich Syndrome's first video.
Following "Dance" comes a love letter to the songs and bands of the late 70's into the 80's: "Love & Dancing (7" Mix)". The song lyrics are comprised almost entirely by song titles and band names. See how many you can name and identify? Along with the "Even More Love Extended" version, this has also been a perennial Munich Syndrome favorite.
The next song "Electro Bop" (mistaken as the title track of the album) brought Munich Syndrome and "Electro Pop" into the finalists of the Dance/Electronica category for the 2006 Independent Music Awards. A bit electro, but with a definite funk edge with some very funky clav and sax work.
"Come Out & Play (Peaks & Valleys Mix)" is an extended remix of the song initially part of the Electro EP. A warmer lead-in teases before it opens up into an exuberant workout of the song.  
"Space Age Bachelor Pad Music" features a kinetic new-wave meets SoCal garage rock guitar that is the perfect soundtrack for sitting on a glass-and-chrome balcony high above the metropolis as the glass elevator opens with a group of eccentrics spilling out ready for a 23rd century party.
Following the party comes "Intrigue"… a thriller-spy-flick-soundtrack to a movie yet-to-be-made. Overtones of thrillers past, icy analog synths over a rock-solid Linn drum and fat synth-bass, the occasional flurry of a Bond-ish guitar, creates a dramatic mood.
"Modern Age (Machine Mix)" toughens things up a tad from the version featured on the Electro EP. A harsher metallic rhythm section drives the tightly concise condemnation of the current state of pop-culture and the effect it has on everyone glued to their screen in their bunkers, vs. being out and actually experiencing actual human interaction.
"Murderous (Bad Things Vocal Mix)" has become our top-streamed track of all-time. A remixed and remade version of "Murderous (NIMH Mix)" adds a vocal track that tells the toxic tale of two people locked into an intractable conflict that very well may end on a deadly note.
A follow on, or follow up to "Murderous", comes "Revenge". A dark tales of giving and giving until the sad finality drives one to seeking retribution. Dark, machine-driven industrial rhythms drive the song with layered vocoder and synth leads flying over the chaos.
The most direct song (lyrically and musically) on the album, "Go Away" is the epitome of synth-pop/electro-pop that has more than a bit of influence from the (then) electroclash movement. Tight, melodic, poppy, but with a (very) direct lyrical take: "GO AWAY"!
"Analogue Life (Half Life Vocal Mix)" was one of the earlier tracks started prior to the Electro EP. It was started but was forgotten until an engineer was going through some of the unnamed files. A state-of-the-art commentary about the plasticity of our world and culture was added onto the already streamlined and air-tight production.
A slight change of pace artistically for the album is "Between Nothingness & Eternity". Composed and pulled together towards the end of the sessions for Electro Pop, this would not have been out of place on Sensual Ambience. Trip-hop beats, melodic piano and an overall chillout vibe, this has been licensed repeatedly and is yet another band favorite track.
Electro Pop closes with the meticulously and deliriously delicious extended and expanded "Love & Dancing (Even More Love Extended Mix)". All the elements of the original are here but given the classic 80's 'extended mix' treatment. A longer but more tantalizing intro, more of the blazingly tasty sax leads and an anti-climax that leads to an amazingly finale, that ends with a lovely outro.
Electro Pop is available at these partners:
Electro Pop available as CD or download from our partners at CD Baby!