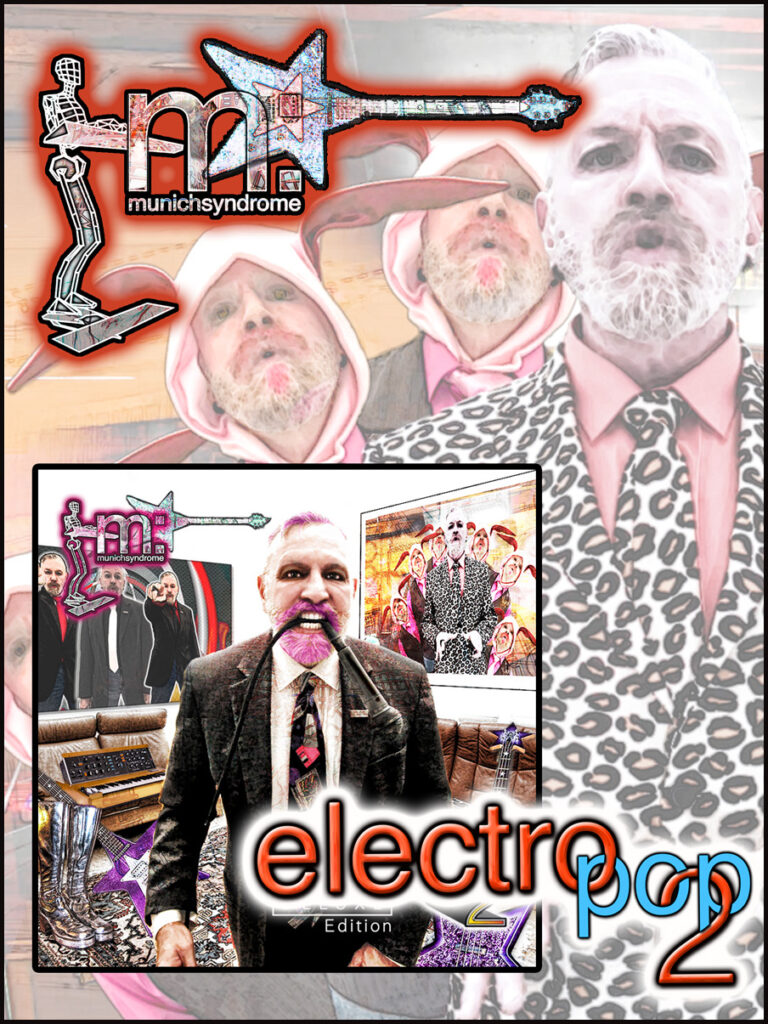 Electro Pop 2 – Deluxe Edition- Available NOW
from our partners at CD BABY
"Electro Pop 2 (Deluxe Edition)" is Munich Syndrome's Magnum Opus 8th album. Exhibiting massive growth and mastery of both song writing and musicianship along with studio environment, Electro Pop 2 couldn't be contained within one album. Breaking tradition with previous releases, the album came after a stunning number of demos and time in the studio was spent. There were hiccups along the way to being mastered and hardcopies being manufactured, but in a weird turn of events this gave Munich Syndrome a bit of time and breathing room to not only produce an album of concisely-tight radio edits, but also left a bit of room for 5 bonus tracks.
An immense amount of time was spent on the vocals for this release. Often there were 5-12 separate vocal tracks, all blended through various effects from the classic vocoder and countless filters. Along with this, while the overriding style of the album could be considered to be "synth pop" or "electro pop" or "EDM", there is a broader range of styles and instrumentation that colors outside of those specific lines.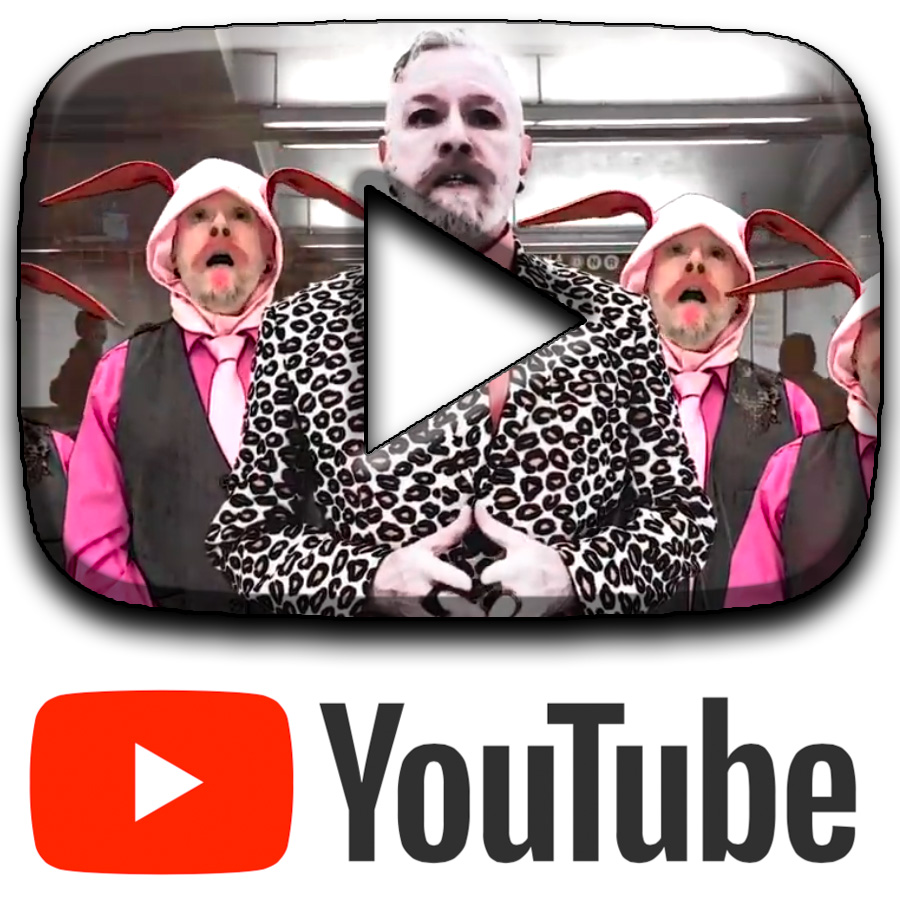 Also, about the time the core album was coming together, the decision was made to throw-in fully on the video side. While there had been some very creative graphic and animated videos for some of the previous songs, this was the first time Munich Syndrome's David B. Roundsley stepped out from behind the camera in front. It turned out to be a lot more fun than expected and has showcased a more playful approach to some of the songs that might get lost with just listening. Part of the joy of this release is the juxtaposition of dark lyrics against joyful dance-beats and (now) playful graphics and performances to frame them in.
Opening the album is "Don't Fit In", a deliriously boppy new-wave synth-pop confection that has a surprisingly positive and upbeat message: if you don't believe in yourself, no one else will! Melodic, fun, and an anthem to being who you are regardless of others telling you to not be yourself.
"Suburbia", layered on a bed of glistening synthpop (Vince Clark – Erasure?) melodic and poppy tells the dark tale of what lies behind "the starched linen curtains" where "the TV is turned up to muffle the yelling and cries."
"New Wave Weekend" picks up where "Friday Nights" off The World of Tomorrow left off: An unbridled weekend of fun, adventure and a LOT of music in a valiant effort to escape the drudgery and despair of Suburbia. Definitely one of Munich Syndrome's songs where the lyrics match the mood of the music.
"Catastrophe Addict" tells the tale of one of those friends or relations that just cannot or will not do the right thing. It's one misadventure after another, and these people tend to pull everyone else along for the ride. One of the cheekier and fun videos in the Munich Syndrome video cannon.
A fond glance back at an era that seemed to come and go far too quickly, "Glam" not only extols the virtues and fun of the glam-era, but also commemorates a time when a certain group of 'with-it' people threw glam-centric parties. Bowie, T-Rex, The Sweet, Suzi Quatro, Roxy Music, Slade and many more…
A pivotal song for the album and this project is "Ghosts of the Dance Floor". While being interviewed for a European documentary on Armistead Maupin which was filmed in the old neighborhood Mr. Roundsley used to live and experienced many things which have found their way into Munich Syndrome songs. Going to the old haunts (some there, most no longer) and even running into a couple of people from the day, resulted in the wistful look back with a song that wouldn't sound out of place on a Marc Almond, or even Soft Cell album. Two videos were done, one for the full album version (which features archival footage of the earliest documented days of Munich Syndrome) and one for the radio edit.
"Lies" is calling out the not-so-well-hidden agendas and disinformation people spread to further their own cause. This song is also on the charity compilation: Face The Beat Session 5, available now on BandCamp. Lies was also selected to be part of a mega-mix from the album that will be released shortly.
Perhaps a follow on, or reaction to "Lies" comes "Hard Luck Baby", a hard-pop that has a glam-feel with a pop-rock backbeat and super catchy rock-and-roll feel. A neon-immersed video with a rock-and-roll sass seemed like a good fit.
Possibly the harshest (but very spot-on) song in Munich Syndrome's catalog comes "Everything is Fucked"! Direct, abrupt, in-your-face, unilateral, straightforward, and blunt, with a very direct electro-rock-pop musical attack merged with a biting visual commentary. This has been one of Munich Syndrome's most shared and commented on track.
Continuing in the glam-pop-rock-electro-pop mode comes "EVERYDAY!!!", a driving beat, insistent bassline, and turbo-charged guitar gives a bit of a metal-feel to this direct track.
"2 Much Fun", a much more electronic track, with spiraling, snaking, lissome, graceful analog synth leads winding its way around a densely layers electro foundation. Addressing the harsh facts of aging in a world that's always looking for what shiny, new and young, but coming out the other end realizing we're still going to have too much fun! A video was done for the full album version and for the radio edit as well!
The title track, "Electro Pop" was the song that almost wasn't. One of the earlier songs when the project began, something happened in the early mixing stage that threw things just ever-so-slightly out of sync. It began life a lot slower and was almost jettisoned as the album was nearing completion. Reopened, and essentially redone from the ground up, the song has been one of the best received on the album. The original was 7+ minutes and what would have been called "the extended mix" back in the 80's. Both the full album version and the radio edit were given video treatments!
"Trapped in a world not going forward"… so many seem to be want to go back to a time and place that really didn't exist (at least not by their ideologies and standards). "Rocket 2 Mars" looks for escape and freedom from the emotional and intellectual straitjacket many would like to reimpose on everyone… Kinetic beats, retro synths, this one leans in hard on the new-wave side of synth pop. (plus the rabbits from Don't Fit In make a welcome return)
"The Only Path" was the original ending of electro pop 2, but with the subsequent radio edits and bonus tracks, it's more of a jumping off point for the remainder of the first disc. This song also fed into another project (actually several of the songs on this album did), the memoir "Bad Blood – A Life Without Consequence", with the lyrics foreshadowing the overriding theme of the book:"Through the pain I've learned how to live. Through the anger I try to forgive. To find the thread some things unravel, but this is the only path that I can travel." The drums recall the old Rawhide TV series, and despite the overall high-tech and VERY electro production, it could almost be (or actually is) a country song.
With the inclusion of five bonus tracks comes the first: "Spooky". Darker and more electronic, but with the machines groaning and sputtering underneath, it almost sounds organic. Originally conceived as an observational piece, it was shifted to a first-person narrative when the actual recording began.
"Cold" is a character sketch of someone who can't let go of their past. They use their hurt and injustice as justification for their current behavior. It's like being locked in an endless loop of unhappiness and misery.
"The Backroom" is a clubbier electro instrumental. Something that wouldn't be out of place on a Grid or William Orbit album. Cool, sensual, electro ambiance as it explores the darker corners of the club and the potential of what lies beyond the backroom…
"An Adventure" turns the electricity down a few notches and brings in an understated acoustic piano as the main instrument. A fantasy travelogue that goes from the Serengeti to Tokyo, from Paris to Kilimanjaro, London to Reykjavik and then home. To accompany the song is playfully engaging video.
Closing the album is a first for Munich Syndrome, the use and inclusion of acoustic guitars and accompaniment. "Journey of a Lifetime" is a continuation of "The Only Path" and also ties into the memoir…
Electro Pop 2 – Deluxe Edition- Available NOW
from our partners at CD BABY
Electro Pop 2 available as CD or download from our partners at CD Baby!